Ergonomic, elegant, lightweight, ingenious and fun. A talking point wherever it goes.
buy your GS in October and Save €300!
We're on a mission to build the best electric bicycle in the world – the all new Gocycle GS! Perfectly designed for commuting, running errands, or just having fun! Don't put off buying an electric bike any longer. Owning and riding a Gocycle GS is your chance to start living a more active, healthy and sustainable lifestyle.
the Pitstopwheel
Our patented quick-detach Pitstopwheels make folding down the Gocycle GS easy. The side mounted design not only looks great but makes it quick and easy to remove the wheels and make fixing a flat tire a no sweat deal.
the Cleandrive
The multispeed enclosed chain drive keeps all the oily parts away from your clothes. It comes in a range of great colours: Red, Blue, Pink, Light Blue and Black, to match a grey or white front frame.
Vgonomic™ design
Gocycle provides contact points in exactly the same place as a large-wheel bike – but with more adjustment to fit more riders. The Vgonomic™-designed seat-post and frame geometry, combined with height and reach adjustable handlebars, provides adaptable fitting with superior comfort levels for a wide range of body types.
seriously Lightweight
At only 16.5 kg (36.3 lbs) including kickstand and folding pedals, the Gocycle GS is one of the lightest electric bicycles on the planet!
the ShockLock™
Convenient and easy to use, the ShockLock™ is a cable lock that comes standard with every Gocycle GS so you can head to the coffee shop right out of the box.
the Kickstand
The Gocycle kickstand is made of durable and strong aluminium with dual legs to stand your Gocycle upright securely. Dual piston spring design and double bearing support give the kickstand a smooth and strong folding action. The kickstand is included with the Gocycle GS.
the App
The Gocycle GS comes with the free GocycleConnect™ App that allows you to personalise your ride, adjust speed and power settings, and provides you with health stats like calories burned, power output, trip data and more…
meet the Team
Our team works efficiently with experience and passion for our business and product. Besides English, our sales and support team speaks French, Spanish, and German.
the Front Pannier
Probably one of the most useful Gocycle accessories!  Our bespoke front pannier is easy to attach and remove, extremely versatile – from carrying your work stuff to groceries, and looks great too!
rward setup so you can get riding fast.
the Docking Station
Our portable docking station makes stowing the Gocycle GS easy. Clean and moulded deck design for intuitive stowing. Stable four caster-wheel base for effortless transport. Durable and protective zip fastened cover.
Mudguards and Lights
German-made, high-quality front and rear lights and front and rear mudguards are available. The lights run off the main Gocycle battery pack and their quick fit design makes fitting them to your Gocycle GS very easy.
Lock holster
The Gocycle Lock Holster is a Sold Secure Silver rated lock for added security. It fits neatly and discreetly onto the side of the frame in a handy location for easy and fast locking.
the Rear Luggage Rack
The new for 2018 rear luggage rack is designed specifically to work with your Gocycle. It will fit your favourite modern pannier bag and is also quickly detachable so you can use it only when you need to!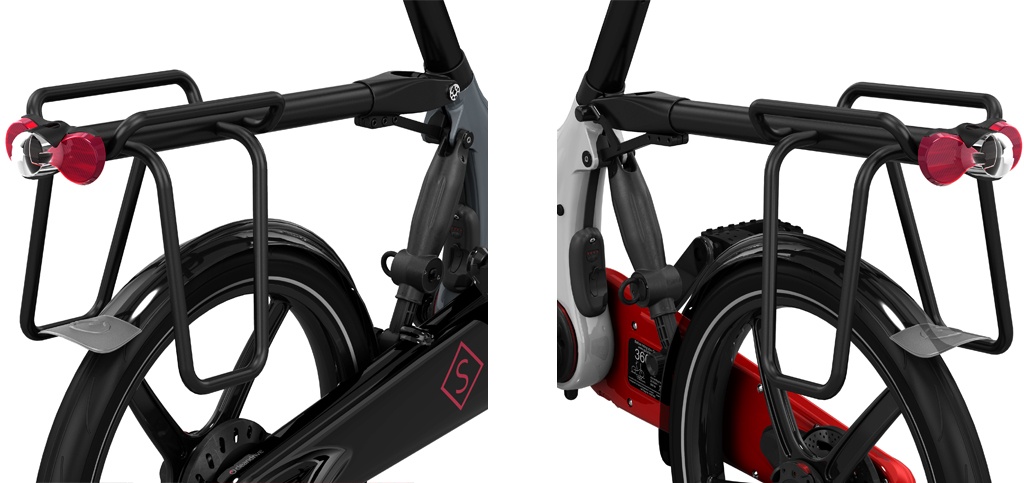 the Works
Build your Gocycle GS into the ultimate commuting electric bicycle by fitting all of the fully integrated Gocycle accessories – lights, mudguards, Lock Holster, and rear luggage rack!
easy on the Planet
We use environmentally-friendly magnesium to create the Gocycle GS' high-tech, durable, ultra-lightweight frame and wheels. It's the only bicycle in the world to have an injection moulded magnesium frame and wheels. The special process is known as Thixomolding® and does not produce any ozone depleting SF6 emissions, but will still give the rider the similar weight and structural benefits as carbon fibre. Magnesium is widely available and easy to re-cycle.
the Fastest Wheels
Gocycle Pitstopwheels are the fastest bicycle wheels in the world!
GS Prototype Design and Testing
One of the new parts that we developed for the Gocycle GS is the oversized handlebar. It's hydroformed (that's where you inject high pressure oil into an aluminium tube to form it out into a moulded shape) meaning we can route the cables cleanly, make a chunky handlebar that looks great and is structurally better – lighter and stiffer! All of the GS parts draw on our years of experience designing and testing components to international bicycle and ebike standards.
the Colours
The Gocycle GS comes in a variety of colour schemes.  You have a choices of grey or white front frame, matched with your choice of five different Cleandrive colours!
the Tech Specs*
Gocycle GS
Frame Colour
Front Frame: Grey, White; Cleandrive: Blue, Red, Black, Light Blue, Pink
PitstopWheel®
Patented PitstopLock™ system
PitstopWheel® Colour
Gloss Black
Motor Drive Control
Pedal Torque Sensing
Daytime Running Light (DRL)**
No
Smart Device Connectivity
GocycleConnect® App via wireless Bluetooth®
Riding Modes
City, Eco, On-Demand, Custom.  Multiple, programmable through interactive dashboard functions or GocycleConnect App
Electric Drive Speed***
20 mph
Range
Up to 65km (40 miles) eco mode depending on pedal input
Motor
Gocycle proprietary motor gear drive 250 watt continuous
Battery****
Gocycle proprietary Battery Management System (BMS) with improved sleep power management and charge control, increase capacity in frame lithium ion, 13.5Ah, 22V, Approximately 300 Wh
Charging
7 hours (3.5 hours with optional fast charger)
Motor Controller
Gocycle proprietary
Handlebar Display
With Smart Device and GocycleConnect™ App
Shifting
Mechanical Microshift™
Transmission
Patented Cleandrive® Shimano Nexus 3-speed
Gear Inches
1st=39.1 in, 2nd=53.3 in, 3rd=72.5 in
Gear Development
1st=3.1 m, 2nd=4.3 m, 3rd=5.8 m
Brakes
Hydraulic disk, front and rear
Tyres
Gocycle Performance Tyre (406-50, 20 x 1.75 in)
Front Motor Fork
Gocycle proprietary, single-sided, 6061 T6, Uni-form 3D Forged
Rear Suspension
Gocycle Lockshock™ 25mm (1 in) travel
Saddle
Velo Sport
Pedals
Gocycle Folding Standard
Grips
Gocycle Standard
Frame Size and Fit
Universal Vgonomic™
Handlebar Stem
Quick-folding with reach adjustment
Head Angle
70°
Seat Tube Angle
68°
Wheelbase
1065mm (42 in)
Bottom Bracket Height
275mm (11.5 in)
Stowable Dimensions
Portable Docking Station for easy stowing and transport (L780mm x W370mm x H580mm)
Approximate Weight
16.5kg (36.3 lbs) including kickstand
Maximum Rider Weight*****
100kg (220 lbs), including clothing and luggage
*Technical specifications subject to change without notice.
**The purpose of the DRL is to enhance visibility of the Gocycle to other road users only. It is not intended to be a substitute for front and rear lights and should be accompanied with an additional set of front and rear lights approved for the territory you are riding. We recommend that you consult the relevant national safety organization or a reputable cycle dealer on what the minimum recommended lighting requirements are in your particular country or region.
***Electric bicycle speed regulations vary by country—consult your local authority for information.
****Battery capacity and performance may vary from battery pack to battery pack.
*****This product has been designed with a maximum recommended weight limit of 100kg (220lbs) for the rider, clothing and all luggage, and is intended for use on paved roads. For rider and luggage weight 100-115kg (220-250lbs): riding style, road condition, tire pressures and luggage position may reduce product service life. Luggage weight should not exceed 10% of total rider and luggage weight. Never exceed rider and luggage weight of 115kg (250lbs) at any time. Exceeding this limit will void all warranties and may result in the product being unsafe for operation.
Last updated 3 September 2017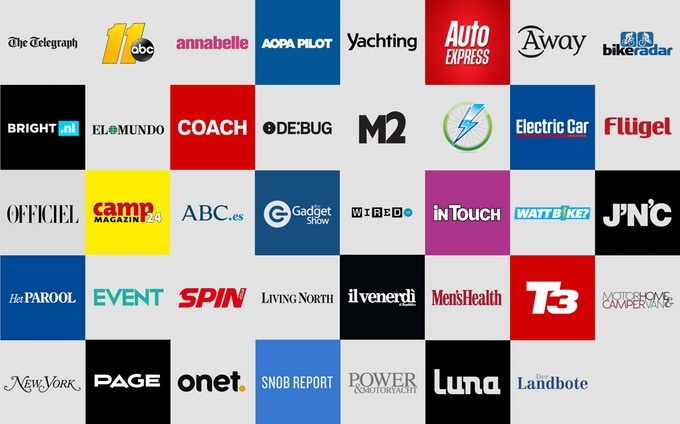 How do I choose my frame size?
You don't need to worry about that! Gocycle's Vgonomic frame design means it can be adjusted to fit you, your partner, and your friends.
Will it fit me?
Yes! The Gocycle's Vgonomic frame design gives universal fitting from 6'5" (Gocycle's designer is 6'3") to 5′ and you can order a compact seat post after the campaign that will fit heights down to 4'6".
Where is the Gocycle GS made?
We source all of the parts from the USA, Europe, Taiwan, and China. We run quality control checks on them and bring them into our factory in the UK. We then ship them to our bicycle assembly partner in Poland where the Gocycle GS will be assembled. Then we ship to our warehouses in the UK and North America and then on to your door step! We've got a strong supply chain that we have been working with for more than a decade.
Is there a more secure lock available than the cable coil lock?
Yes. The Gocycle Lockholster is available and fits neatly to the side of the frame. It is a very secure lock that has a silver European rating accepted and independent assessor of bicycle security approved.
How do I use the electric assist?
The electric motor is control by how hard you press on the pedals. You can adjust this with the GocycleConnect App. And there is also a boost button on the handlebar that you can press to access power in some modes.
Can the battery self-recharge during use?
Regenerative braking is not appropriate for bicycles at this time. While some products advertise this feature, on inspection, you will find that it increases weight, complexity and cost, and the amount of energy recovered is usually less than 10%.
How long will the battery last?
The battery should last for many years depending on your riding and we offer a one-year warranty.
Where is the battery?
At first glance, the Gocycle GS does not look like a conventional electric bike because we have neatly hidden the battery inside the frame. But don't worry, should you ever need to replace the battery, it's easily accessible.
Do I have to remove the battery to charge it?
No. It is not necessary to remove the battery from the frame to charge it.
How much will Gocycle cost to charge?
The charging cost is equal to having a 100W light bulb on for 3 hours. In the US and Canada, where KW/hour electricity costs average about 13 cents, the cost to recharge a Gocycle battery, from empty, would be about 3.9 cents.
How long will the brake pads last?
The brake pads should last the lifetime of the product. Depending on your riding style and environment you may need to replace the brake pads from time to time.
How do I change the brake pads?
It is highly unlikely that you will need to replace the brake pads. However, if the need arises, you can find full instructions of how to replace the pads in the Owner's Manual.
How long will the brake disks last?
Brake disks will last the lifetime of the product.
Can I change the tire and tube for an alternative?
Yes, you can choose from many standard tires. Search on the Internet or ask your local cycle dealer for a recommendation of tyres for BMX/20in/406 size wheels. We recommend 20in x 1.75in (406mm x 47mm) size. Tires wider than 1.75in (47mm) may not fit and will rub on the frame. The inner tube must be suitable for a 20in x 1.75in (406mm x 47mm) wheel size.
What is different about the Gocycle GS Model and the Gocycle G3?
The Gocycle G3 is higher priced than the GS. The Gocycle GS has a mechanical shifter whereas the G3 has electronic shifting. There are some external cable routings on the Gocycle GS whereas all cables are internal on the G3. The G3 has electronic rotary power and shift controls, and an integrated LED dash board display that shows speed, efficiency, battery state of charge, and gear selection. The G3 comes with an automotive style integrated daytime running light using light pipe technology. The G3 comes in single colours including metalic blue and mat black. G3 also has premium comfort grips, seat, and pedals. The G3 handlebar stem is adjustable in height and reach.
How do I get access to the chain?
It should not be necessary for you to gain access to the chain. It is lubricated, self-tensioning and sealed within the Cleandrive®.
Do I need to adjust the chain?
Do I need to oil the chain?
Can I use Gocycle off road?
Gocycle has been designed as an urban-specific two-wheeler. We do not recommend that you take Gocycle off road; however, riding on smooth gravel bike paths should be fine.
Do I need to wear a helmet?
We strongly recommend you ride with an approved bicycle helmet.
Is there a compact seat post height available and what is the seat height from the ground?
Yes, you can buy a compact seat post. The height from the top of the seat to the ground for the Gocycle S standard seat post in the lowest position is: 880mm or 2′ 10.6″; the same with the compact seat post in the lowest position is: 810mm or 2'8″. Note that the rear suspension will compress around 1/2 – 1″ measured at the saddle when the rider's weight is on the Gocycle.