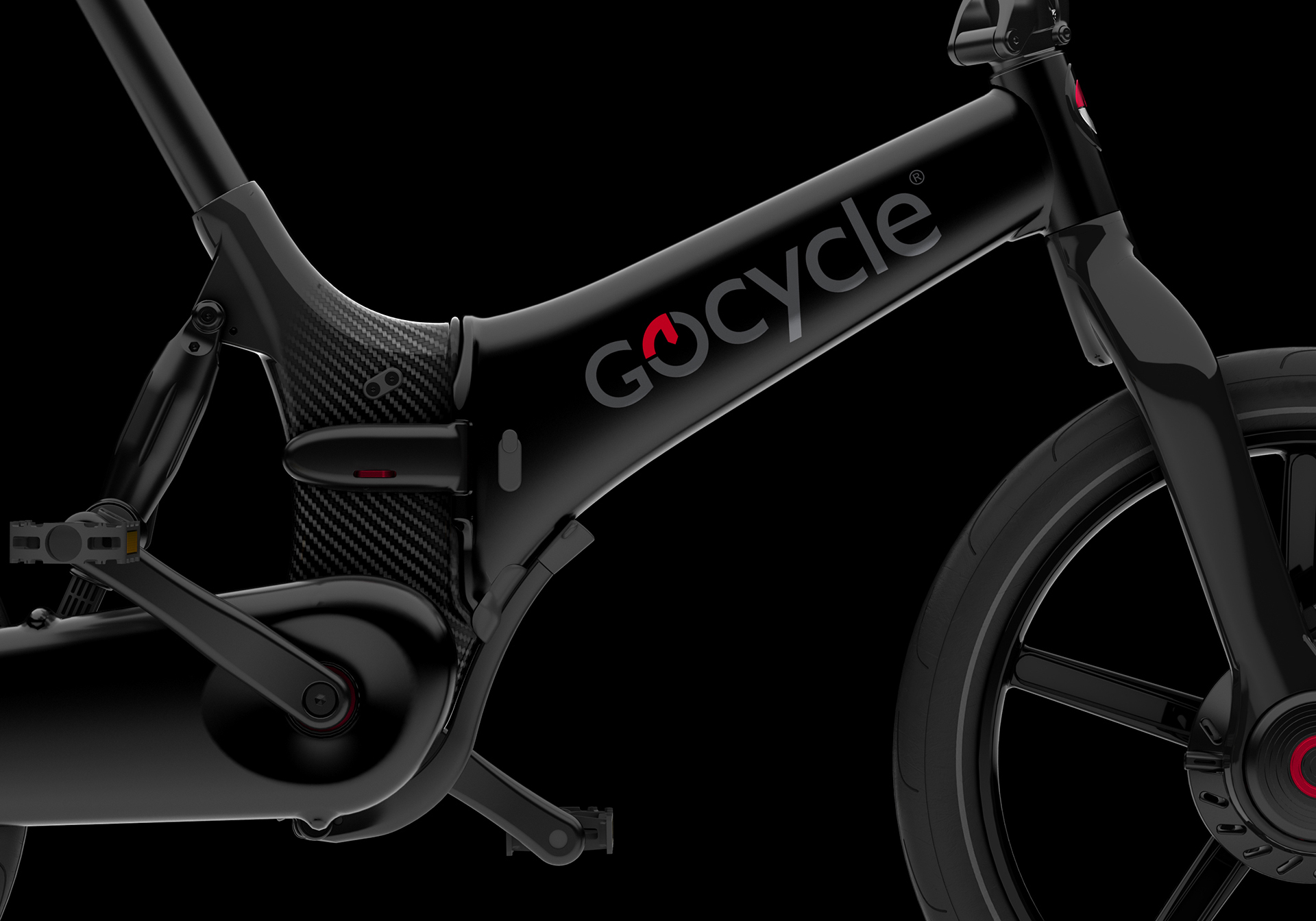 The world deserved a better bike.
Smooth and quiet, Gocycle's bespoke new G4drive delivers more torque with class-leading compact packaging.
"The ride quality is second to none and could easily go up against any of the non-folding commuter bikes we've ridden." – Electric Bike Action Magazine
The low centre of gravity makes the bike agile and responsive to ride and easy to lift and manoeuvre at home.
Front hub motor and battery contained within the monocoque chassis balances weight fore and aft for perfect weight distribution.
This central component of G4's monocoque chassis has the important job of connecting the hydroformed aluminium front frame and Gocycle's patented magnesium Cleandrive™. Three different components, three different materials, each optimised for three different roles.
No cables, chains, gears, sprockets or oil – no mess. It can be taken everywhere. The streamlined chassis and PitstopWheels® makes cleaning the Gocycle fast and easy.
1. Gocycle's patented Cleandrive™ system encloses the efficient chain drive to keep your clothes and furnishings clean.
2. Patented single-side mounted PitstopWheels® make fixing a flat tyre fast and easy.
3. Patented Shimano Nexus 3-speed sequential gearbox is completely enclosed. Unlike traditional derailleur systems, Gocycle's unique gearbox requires very low maintenance.
Foldable

and portable
Gocycle packs away perfectly for transit or storage in tight city living spaces, boats, or motorhomes. The streamlined chassis and PitstopWheels® make cleaning the Gocycle fast and easy. Lightweight and stowable, no other ebike has the versatile dynamics of Gocycle.
Travel case is available as an accessory.
Gocycle has an automotive-inspired adjustable driving position. Cars come in one size with an adjustable position; so does Gocycle.
V
gonomic™ design
Gocycle provides contact points in exactly the same place as a large-wheel bike – but with more adjustment to fit more riders. The Vgonomic™-designed seat-post and frame geometry, combined with height and reach adjustable handlebars, provides adaptable fitting with superior comfort levels for a wide range of body types.
The G4i comes fitted with Gocycle's iconic and patented Daytime Running Light (DRL) employing our proprietary light pipe design and technology.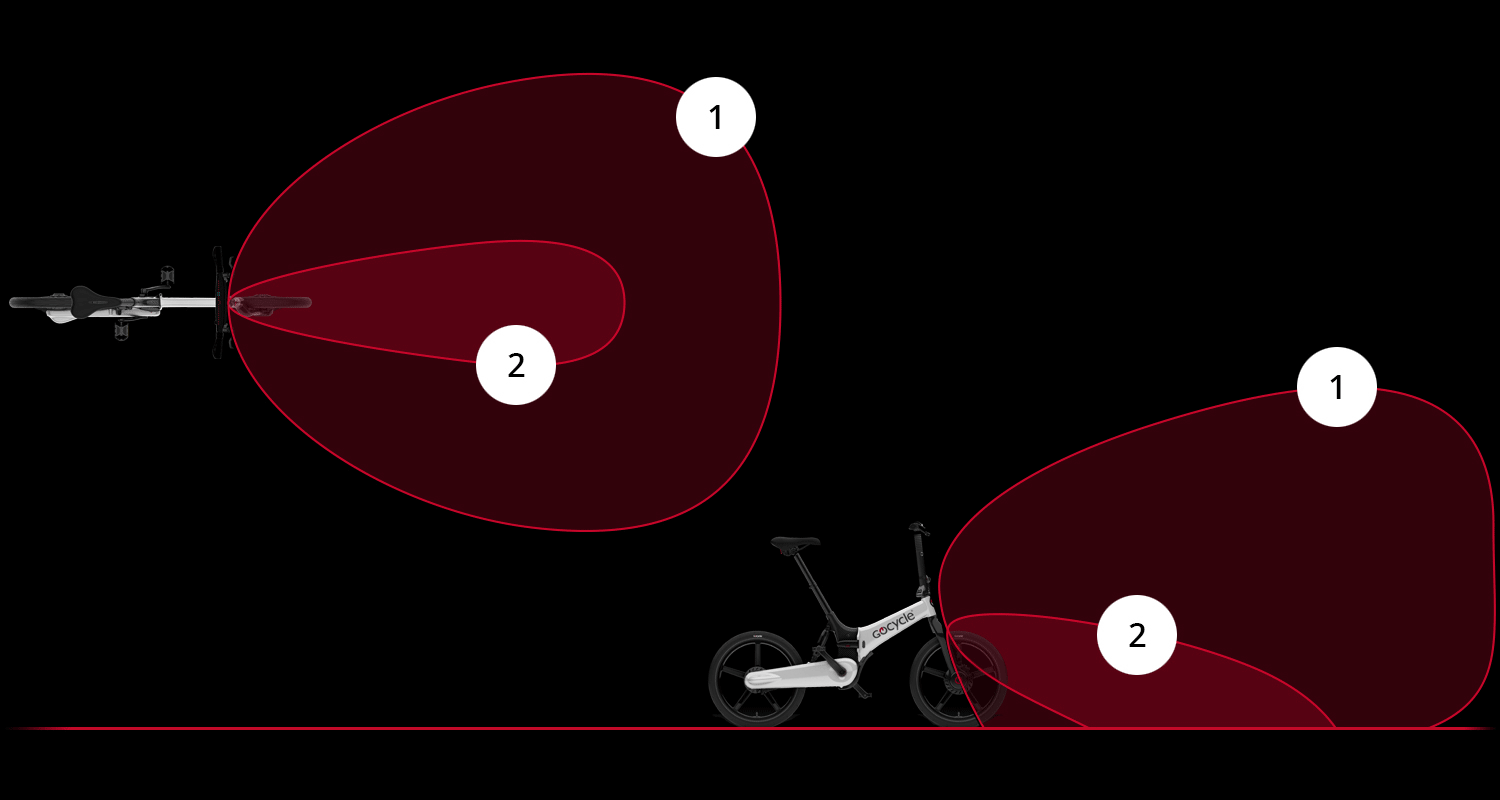 1. Extended 'to be seen' light zone with G4i's Daytime Running Light (DRL)
2. Normal 'to see' light zone with optional integrated light kit.
Lightest in class, Gocycle is designed to be easy to lift and manoeuvre at home or in the city. Its smooth frame curves are comfortable to hold and the centralized weight reduces strain.
Streamlined

& user-friendly
All information the rider needs is presented in an F1 inspired streamlined dash. Low energy Bluetooth (BLE) available for reliable interface with the GocycleConnect App.
Regulate your speed
Fine-tune your motor assistance
Monitor your battery
Trip odometer
Track your fitness progress
Calories burned calculator
Set your riding mode
Troubleshooting made easy
A full range of integrated accessories are available from mudguards, lights, integrated lock holster, to panniers, travel and storage systems.
Integrated Lights
The kit uses Gocycle's battery to power bright front and rear mounted lights. German made, the LED lights are a must for commuting in the dark.
Lock Hoster Kit
Produced with 5mm hardened steel bars which have an innovative coating to prevent paintwork damage. This Sold Secure Silver rated lock is a great space saving device that stores neatly in the Gocycle Lock Holster.
Mudguards
Durable with rubber ducktail for increased protection. Mounting brackets allow fine-angle adjustment and quick removable fastening.
Travel case
Gocycle Travel Case provides neat and easy storage for fast-folding models during transit. Effortless transport via two built-in wheels. Stylish and durable design with protective zip fastened cover and internal pocket for storing essential accessories.
Front Pannier
Lightweight and high-tech material front pannier. Multi-directional expanding pockets add useable volume, whilst still keeping the pannier compact when not required. Inspired by Gocycle's patented PitstopWheels®, with one simple movement, the front pannier can be effortlessly detached or re-attached